Transportation
Manage Airport Invoicing With a Compete Arsenal of Precise Monetization Tools Arranged to Fit Your Specified Needs While Producing Immediate Results
Welcome to the New Era of Transportation.
The Kansys Edge provides the ability to configure, document, manage and automate the critical monetization terms and conditions inherent in today's transportation and logistics verticals. Additionally, it provides the flexibility to manage non-traditional related infrastructure such as hotels, malls and supporting retail developments. Kansys brings years of large-scale enterprise experience in monetizing innovative business models including:
Next Generation Transport – Cost efficient and extensible charging model for mass transport
Private / Public Convergence – Four sided charging models with municipal government, airlines, concessions and suppliers with residual participation
We're a specialized company based in Kansas City that has been driving big results for airports for ten years. Our primary focus is to deliver your business high-end, monetization solutions designed for the modern era.
Having this coupled with our legacy of being a best-of-breed software integrator means we're capable of tackling the most complex projects in less time and at lower cost. No tricks up our sleeve here, just real results.
"Smart airports are on the rise with technological advances driving the future."
– Bill Griffin, Business Development Officer, Kansys, Inc.
The Kansys Edge provides you with unparalleled revenue consolidation designed to handle your most complex billing tasks. From the ability to invoice your airline and cargo customers to parking, airport concessions, lease agreements and more….we're able to bill whatever it is you need in one system flexibly, efficiently and quickly.
Unmatched Airport Revenue Management at the Heart of Your Operations
Taking An Offensive Approach to Billing:
As technology continues its unyielding advancement into almost every sector of our daily lives, digital transformation is imperative. Rapidly-changing customer behavior is the single biggest challenge faced by a multitude of businesses today.
As societies become more and more interconnected through information and technology the demand for smarter and more integrated systems needs to be actualized.
New revenue opportunities can come into existence promptly and in a variety of forms. Ensuring your billing system has the agility to account for this is essential to your strategic positioning, growth and scalability.
Every Airport Faces Its Own Unique Challenges & Opportunities:
Visitors today are wanting more immersive and personalized experiences aligned with their travel journeys; this includes not only in the air but also on the ground. Non-aeronautical revenue sources such as smart parking, public safety, retail, concessions and rentals attributes to over 40% of global airport revenue streams and that number is expected to increase.
Airports which are unshaken by competing business structures such as ridesharing (Uber/Lyft), online retailers and … are seeing an opportunities to provide better holistic experiences for their visitors ensuring they enjoy smooth transit through their facilities. At the backbone of this requires a billing system ready to tackle those most complex tasks quickly.
Revenue of commercial airlines worldwide from 2003 – 2020 (in billion U.S. dollars)* – Provided by Statista 2020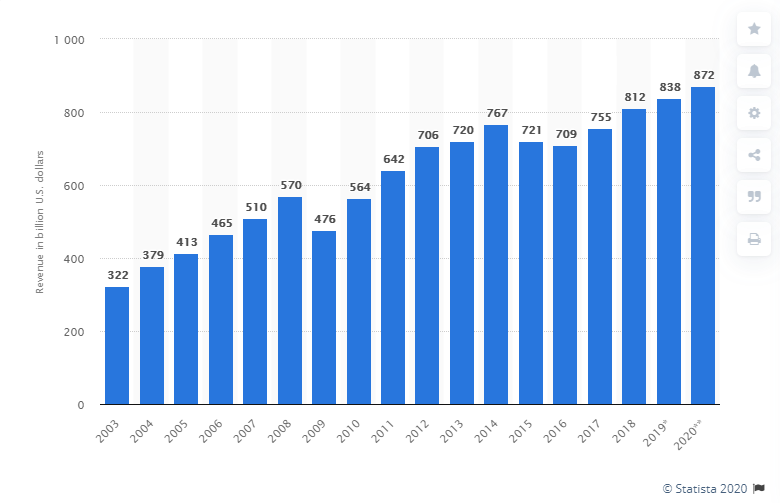 Are You Ready to Pilot Your Business Into the Modern Era?