Any Industry
THE KANSYS EDGE FOR ANY INDUSTRY
Providing the ability to configure, document, manage and automate the critical monetization terms and conditions to any industry, anywhere, any way
Monetizing Innovative Business Models Across Any Industry
Regardless of the vertical industry, The Kansys Edge monetizes relationships:  that means taking competitive strategies and converting them into the business processes and services necessary to get paid, to pay and, between the two, make margins.
Whether a new or long standing business, offering the next great service (or an old service in a new way) is absolutely critical to future success.  
However, that alone is not enough. A service without a win-win business model – value for money for customers, cash and margins for the business, and equally cash and margins for suppliers — won't succeed.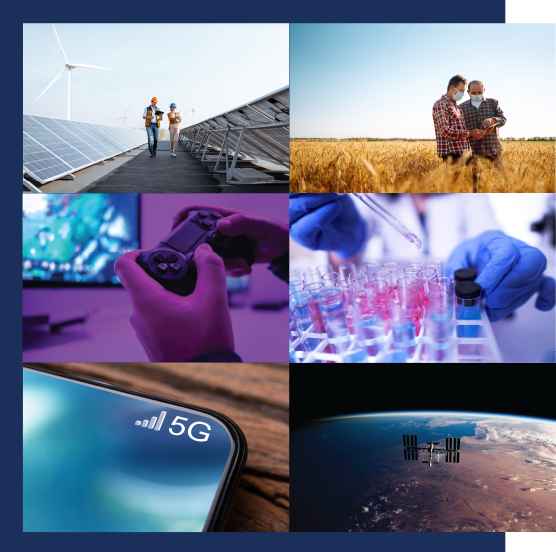 Strategic innovation today means understanding the how, when and why payments are made in such a way that:

Customers get a great deal, spending willingly, driven by value not price
Suppliers get a great deal, agreeing to reasonable prices and attractive terms

The business does great business, maximizing cash flows and exceeding ROI expectations
Kansys Commercializes Innovation
Our experience means that we not only understand how services are commercialized but how to monetize the terms and conditions along the value chain. The Kansys Edge's Agreement Based Billing empowers finding and executing the exact monetization terms and conditions needed to get the money flowing and the business idea off the ground.
The Kansys Edge provides the ability to configure, document, manage and automate the critical monetization terms and conditions without which innovation would not thrive. We have over 10 years of experience in monetizing innovative business models.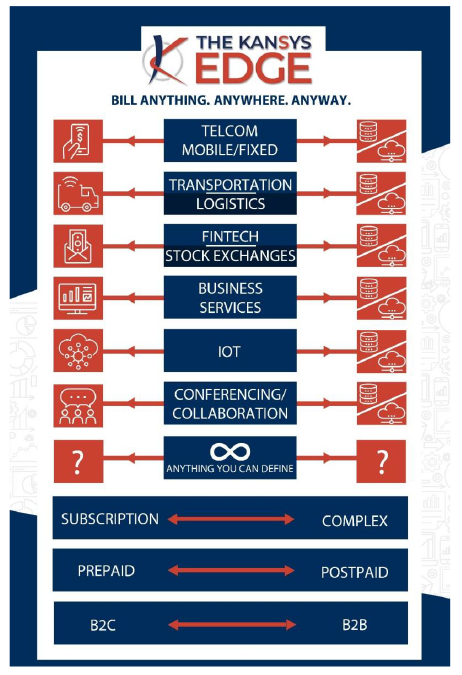 The Kansys Edge Solution Has Supported:
Next Generation Transport – Cost efficient and extensible charging model for mass transport based on traveler not "travel card".
Private / Public Convergence – Four sided charging model with municipal government, airlines, concessions and suppliers with residual participation
Smart Infrastructure – Supporting new business models built on the delivery and support of smart meters for business and consumers on behalf of large distributors
Business / Social Network Convergence – Two sided business model for subscription based charging for expertise in network and event based compensation for experts themselves
Media / Mobile Convergence – Business model where users are compensated with free air time for participating in advertisement campaigns
On Demand / Zero Subscription for High Value Services – Business model where users can purchase premium satellite access via vouchers
Green Transport – Invoicing and charging for model to allow users to use fleet of bicycles on demand.
Consumerized Experience for the Enterprise Market
The Kansys Edge is industry and service agnostic in the sense that it does not dictate processes, workflows, data models or interface mechanisms, but rather allows these to be configured from first principles. As a result, The Kansys Edge conforms to the business rather than requiring the business to make compromises to  ccommodate the product. We term this singular capability "Dynamic Business Modeling."
The Kansys Edge is based on the concepts of a Service Oriented Architecture (SOA), whereby new services can be easily created, added to, or replace an existing set of services. An example of service is 'compensate supplier', which specifies a series of steps in the re-distribution of revenue to suppliers in a value chain. The creation of these services is entirely managed through metadata. No coding or development is required. This approach has the benefit of freeing users from the underlying technology, enabling them to express their business intentions more succinctly.
Once services are created, The Kansys Edge has a further unique ability to implement the service by automatically creating the associated data model, interfaces and workflow. This approach offers innovation, speed to market, low cost, and independence.
Today, The Kansys Edge has been successfully deployed on a global basis, empowering customers to build innovative business models, securely collect revenue, compensate partners, and manage their customer lifecycle in12 languages, 26 currencies and 81 countries.